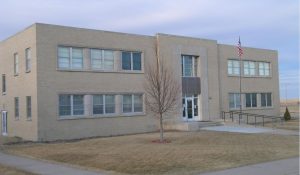 Hayes County Courthouse
8:00 a.m.-4:00 p.m.
505 Troth Street, PO Box 370
(308) 286-3413
www.hayescounty.ne.gov
www.hayes.gworks.com
DMV location – every other Wednesday, 9:45 a.m.-noon, 1-4 p.m.
Board of Commissioners meet the 2nd Tuesday of the month
 **ANNOUNCEMENT REGARDING COVID-19 PROTOCOL**
The Hayes County Commissioners have suspended public access to the Hayes County Courthouse effective March 31, 2020 at 4:00 PM until further notice.
County offices will be available to accept phone calls and, if necessary, schedule appointments.
The public is encouraged to use online resources or the US Postal Service. 
Hayes County Treasurer
308-286-3214
treasurer@hayes.nacone.org
Hayes County Clerk
308-286-3413
clerk@hayes.nacone.org
Hayes County Extension
308-286-3312
alysia.messersmith@unl.edu
Hayes County Court
308-286-3315